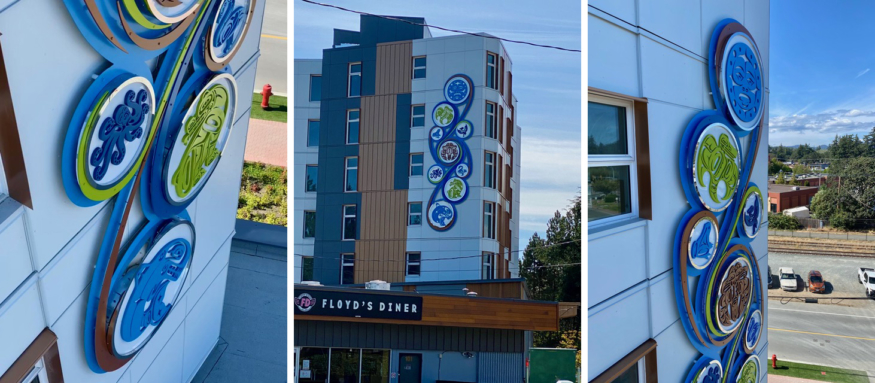 Posted on August 17, 2020 | Updated August 17, 2020, 12:18PM
Connie's interdisciplinary creative career demonstrates a sustained focus on interconnectedness, rather than on difference.
Myriad possibilities are opened up by rethinking — or unthinking — the relationship between the categories of art and design, says Connie Watts, Associate Director of the Aboriginal Gathering Place at Emily Carr University.
Connie sees creative practice, whether her own — which includes a recent project working with M'akola Development Services on a new suite of offices and design installations in Langford, BC — or anyone else's in a more holistic way.
"'Art' and 'artist' are very colonial terms. Same with 'design' — a very colonial term," she says.
"I think of my practice as creating access. Creating access to spaces that work well; creating access to a story or a knowledge-base through art; or creating access to our own languages. I think my approach will always be, and always is, creating access."
This shift in how creative work is perceived and performed is a part of decolonial practice. It's also a powerful lens through which the interactions between spaces, objects and people can be seen anew — to the benefit of the communities whose lives are lived within those spaces and around those objects.
Full article by Perrin Grauer : https://www.ecuad.ca/news/2020/connie-watts-on-fluidity-in-practice-and-creativity-without-borders